What's going on in Myles Standish State Forest?
Park Supervisor John Roberts has retired as of the end of March. He was the park supervisor since 2008 and will be missed. The park is being managed by Assistant Supervisor Jackie Sousa. Jackie has been working in the park for many years and knows it very well. We look forward to working more with him.
There was distressing news in March that Fearing Pond was in a list of 14 ponds where PFAS chemicals had been detected. Department of Health Issues New Fish Consumption Advisories According to warnings posted at the pond, it is not safe to consume fish caught in the pond. However, swimming and recreational activities were reportedly still safe.
Camping at Charge Pond delayed opening. The camping season opened up on May 11th. However, problems with the plumbing have delayed the opening of the Charge Pond campground. A solution has been designed and approved. It looks like that campground may be opening on June 15th.
We have been offering group hiking again on Thursdays and on some weekend days and had a half dozen trail maintenance days in the forest last year. Last year, we did major clearing of a long neglected 3 mile loop trail called the Larch Trail. It is named after a solirary larch tree that stands near the corner of Upper College Pond Road and Halfway Pond Road. The trail was cleared using a rental dingo machine that speedily cleared growth from the trail. Volunteers worked with the DCR to complete the clearing.
We also did a lot of work to restore the trail bed of the Pine Barrens Path and the Charge Pond Loop, which were severely disrupted by the Pine Barrens Restoration Project. Additional work was done to smooth out the trail bed for the trails running out of the Equestrian Parking Lot (near Barrett Pond.)
The Fishing Derby for 2023 will take place on Saturday, September 23rd.
The 2023 Photo Contest is now open with the same rules as in previous years. Send your best photos (max 3) to photos@friendsmssf.com We are looking for your best landscape, flora, fauna, memorable moments, recreation photos taken in Myles Standish since October 2022. Please include your contact info (email, name, date and location of photo, any title).
The Friends 15th Family Fishing Derby took place on Saturday September 24th, 2022 at Fearing Pond.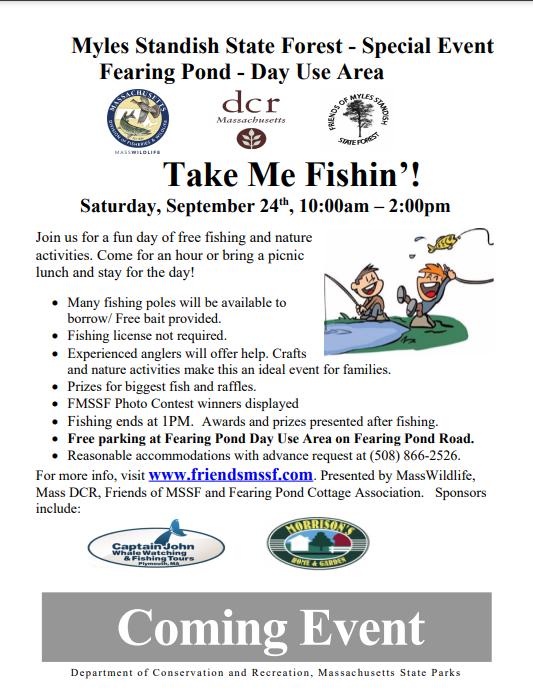 College Pond and Fearing Pond day use parking lots will be open soon. A fee was not charged at College Pond parking for the last two years. However, the DCR has installed an automated ticketing machine to collect parking fees. They have been having trouble with getting wifi coverage at College Pond to make the automated machine work. Fearing Pond has an automated ticketing machine which was in use (except for Fishing Derby day). The fee requires a credit or debit card and is $8 per car for Massachusetts vehicles.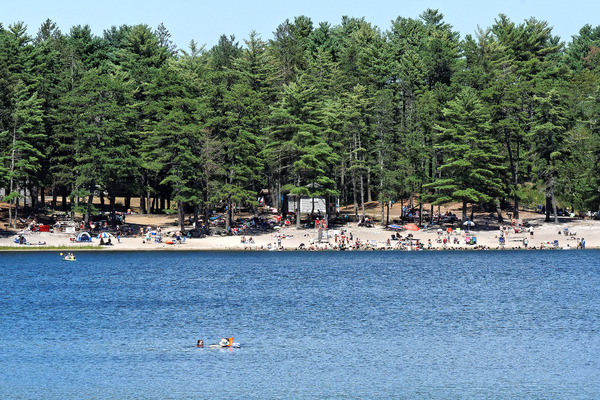 College Pond swimming.
For 2022, camping started on May 12th and ran through October 9th. Visit www.reserveamerica.com to get your reservation for next year. 24 hour advance registrations are required. There are no walkups allowed!
Fearing Pond was stocked for trout in March this year (2023).
The Friends held muliple meetings to discuss the plan and to encourage public responses to the plan.
The Friends Annual Meeting was held at our January board meeting. Our January monthly meeting served as the Friends' annual meeting. We reviewed our last year's activities, including the major trail work we did last spring, the manure pit we installed at the equestrian campground and current projects being developed including a reboot of the East Head Reservoir nature trail. Last month, the group approved serving as a charter organization for Carver Scouts.
We also reviewed our financial status (good) and had an election for directors. About half of our directors were up for reelection. (There is a two year term.)
Friends 2021 Photo Contest awards were announced at our annual 2021 Fishing Derby.
5 photos were chosen by the judges as winners. The Friends thank everyone for their wonderful submissions and look forward to receiving your 2022 best photos from Myles Standish State Forest.
Myles Standish State Forest map available at headquarters.
A beautiful new map of the forest was published in 2016 and is available for free at headquarters. Here is a scan of the map.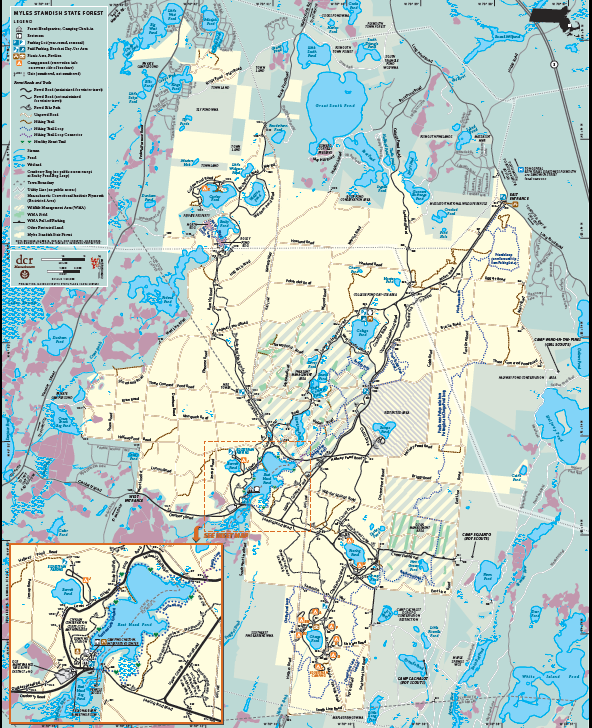 Download a
printable PDF copy of the Myles Standish map.
Check out some of our favorite trails!
More Photo Contest Winners from previous years
Winners were displayed at 2019 Fishing Derby
2018 Boardwalk Repairs sign

. Thank you for your support in getting the repairs done!
Public Meeting on Pine Barrens Restoration plan was held in 2018.
DCR has announced a 10 year plan to treat 1,109 acres of forest land in the southern part of Myles Standish. This will involve cutting down white pines, thinning pitch pine density (by cutting), burning, mechanical clearing, etc. in areas surrounding Charge Pond and Fearing Pond, the Camp Cachalot easement and MassWildlife areas outside the forest. The campgrounds will not be closed. Trails may be closed while work is going on.
A map of the proposed sections was published by the DCR. The area to be treated includes several MassWildlife areas outside the forest. The plan is to treat sections in the order shown on the map. Two areas have already been cut.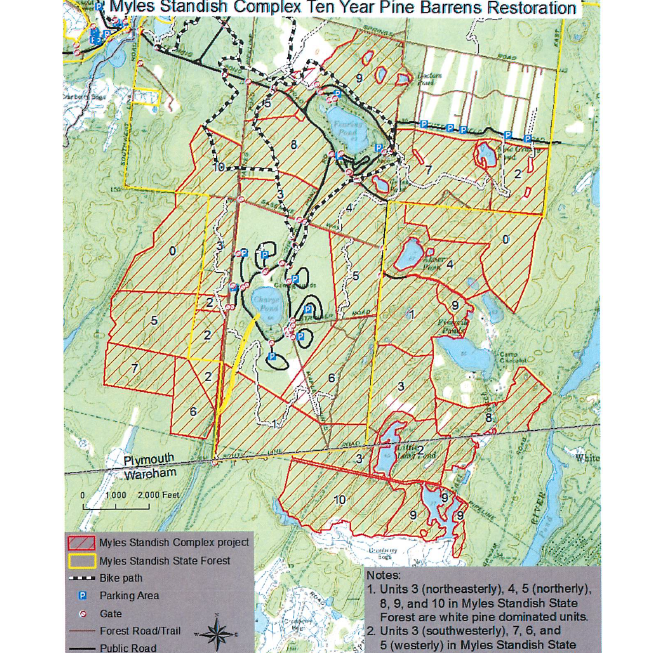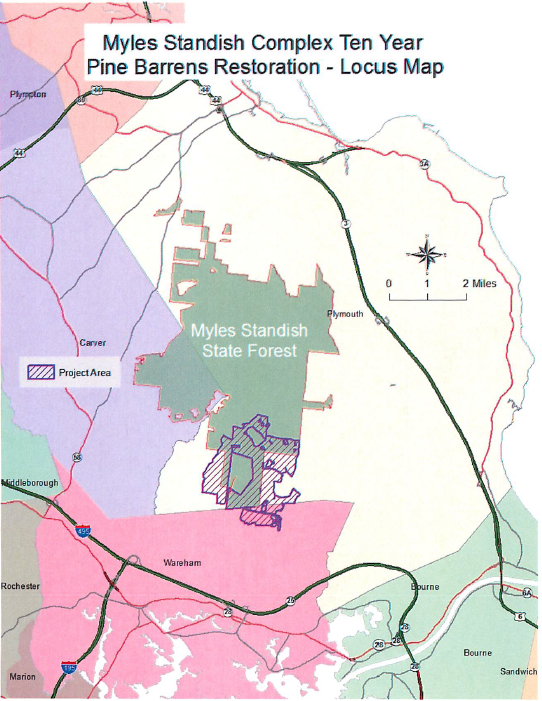 The full 10 year pine barrens restoration proposal is viewable on the DCR website.
Boardwalk Repairs Complete!
The Friends are very proud to report that repairs on the two East Head boardwalks totaling more than a football field in length have been completed after a total of 9 working days led by Roger Janson, Thom Gifford and John Bescherer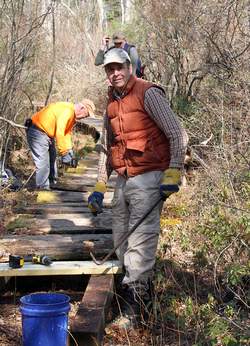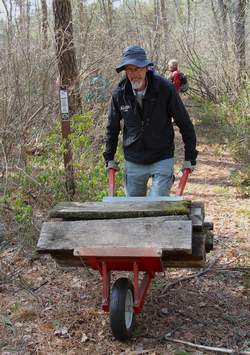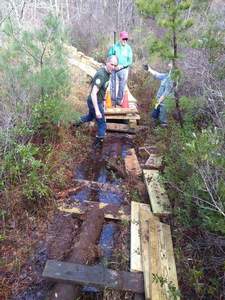 We started cutting up wood on April 9th and were able to lay the first boards on April 11th. With the help of AMC's Open House, great progress was made on the first boardwalk on April 14th and completed on April 17th. We started work on the second boardwalk on April 21st and made a lot of progress on Park Serve Day (April 28th). Work was completed on May 2nd. This is the biggest project ever completed by the Friends, using over $3,400 of your donations to purchase lumber and fasteners. We hope that it will last for many, many years.
Boardwalks Project Background
The Friends were approved in December 2017 for a DCR Partnership Matching Funds to help rebuild two boardwalks near the north end of the East Head Reservoir. A little more than half of the 438 boards were in poor condition. A few were missing. Our proposal hoped to replace the entire top deck with pressure treated boards designed to last a long time. We anticipated spending about $2,000 and receiving a 2:1 match from the state.
After receiving the matching funds award, we spoke with Plymouth Cable News (PACTV) in February 2018 about the project -
We received approval from Plymouth conservation commission to use the pressure-treated lumber. However. after we received approval from the town, the DCR decided that since it doesn't actually own the reservoir or the land that surrounds it, it couldn't financially support the project. We decided to proceed on our own. After we obtained permission from the land owner, and the snow melted, we started the project.
We needed a lot of help to make this happen and want to thank everybody who came out and helped.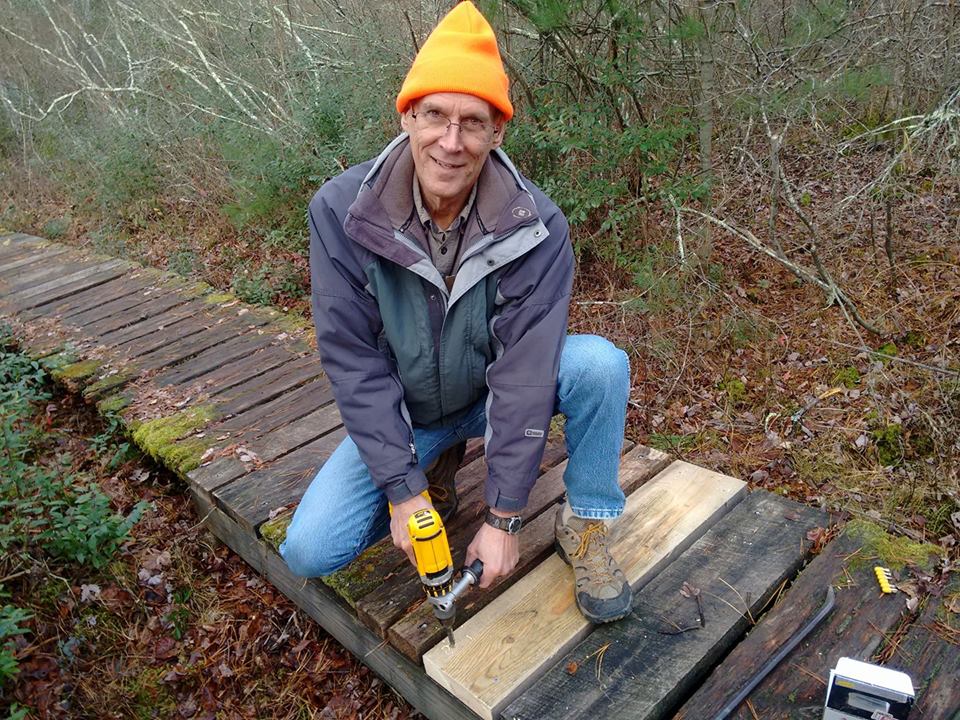 Changes in dog leashing and waste collection for wildlife management areas
The proposed changes were the subject of a public meeting at Mass Wildlife headquarters on Tueday, February 6th, 2018. Since there are are two large wildlife management areas within Myles Standish SF (the Bentley Loop area and the Cutterfields Road area) and there are others bordering the state forest, the discussion was an important one. At its March 14th meeting, MassWildlife's board approved the new regulations with some major revisions reflecting the public comments it had received:
Approved Wildlife Management Area Dog regulations
Dogs must be physically leashed at all times unless they are actively used in hunting or hunting training
All dog waste must be picked up within parking areas and within 100 feet of parking areas. Regulation applies to hunters and non-hunters.
A proposed prohibition of letting dogs interfere with other users' use or enjoyment of the WMA was scrapped as "too vague and hard to enforce."
The DCR does allow off-leash dog areas in many of its parks. The Friends will continue to advocate for the establishment of such areas within Myles Standish State Forest.