What's going on in Myles Standish State Forest?
Friends Special Meeting on March 9th to discuss the new Myles Standish Complex resource management plan
. The meeting will be held March 9th at 7pm at the barn up the hill from forest headquarters. (The barn is about 200 yards up Lower College Pond Road from headquarters.)
Download the RMP draft
. The Meeting will also be broadcast via Zoom. Sign up on the Friends Meetup site if you want to receive the Zoom link for the meeting.
Because of the length of the plan and the high number of reservations, it will be extremely useful if people review the plan before-hand and come prepared to discuss specific comments on specific recommendations. Comments will be accepted until March 23rd at: http://www.mass.gov/dcr/public-comment
Online Public Meeting for new MSSF management plan
An online public meeting was held on March 1st to discuss a draft management plan for the Myles Standish Complex, which includes Myles Standish State Forest along with a number of area DCR properties including Ellisville Harbor, Kingston State Forest, Scusset Beach, the Pilgrim Memorial and the National Monument to the Forefathers, along with other smaller properties.
Slides from the presenation are available online.
Comments will be accepted until March 23rd at:
http://www.mass.gov/dcr/public-comment
(This means you can submit your own comments to the DCR.)
Myles Standish State Forest remains open.
Annual Meeting was held at our January board meeting.
Our January monthly meeting served as the Friends' annual meeting. We reviewed our last year's activities, including the major trail work we did last spring, the manure pit we installed at the equestrian campground and current projects being developed including a reboot of the East Head Reservoir nature trail. Last month, the group approved serving as a charter organization for Carver Scouts.
We will also review our financial status (good) and had an election for directors. About half of our directors were up for reelection. (There is a two year term.)
Park Supervisor John Roberts has attended for the last several months to discuss the state of the forest in the wake of multiple large storms and the finish of the camping season.
If you have an item to bring before the board, please let us know ahead of time. (Write an email to friends@friendsmssf.com at least a day before the meeting.)
The Friends 14th Family Fishing Derby was held on Saturday, September 25th at Fearing Pond.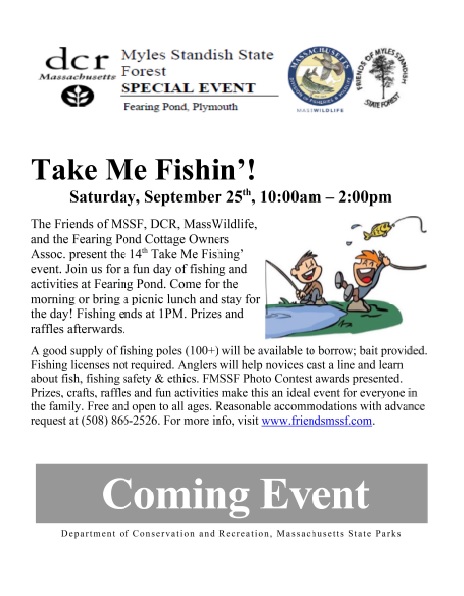 Family Fishing Derby.
We held our 14th Family Fishing Derby on September 25th together with the help of many volunteers and represetatives from Mass Wildlife and the DCR. The event was free. MassWildlife supplied over 100 fishing poles and tackle and offered free instructions. Morrison's donated nightcrawlers. The pond was too warm for stocking trout but many bass and small fish were caught. Fishing ran from 10:00am to 12:30pm with judging afterwards. Prizes were awarded for the biggest fish caught. Arts and crafts activities were offered for non-fishing kids.
We will also be holding our annual photo contest, which like previous years, requires photos to be taken in Myles Standish State Forest. Send your photos (limit 3) in normal photo file format (.jpg, etc.) to photos@friendsmssf.com. Send in your entries by September 15th.
We have been offering small group hiking again on Thursdays and on some weekend days and have had several trail maintenancedays in the forest this year. We did a lot of work to restore the trail bed of the Pine Barrens Path and the Charge Pond Loop. Additional work was done to smooth out the trail bed for the trails running out of the Equestrian Parking Lot (near Barrett Pond.) We will be doing additional trailwork this fall when it cools off a little. Sign up on Meetup to join us!
College Pond and Fearing Pond day use parking lots will not open until Memorial Day. So far, a fee has not been charged at College Pond parking this year. Fearing Pond has an automated ticketing machine which is in use (except for Fishing Derby day). The fee requires a credit or debit card and is $8 per car for Massachusetts vehicles. Fearing Pond was stocked for trout in March of 2021 and will be stocked again in time for our Fishing Derby.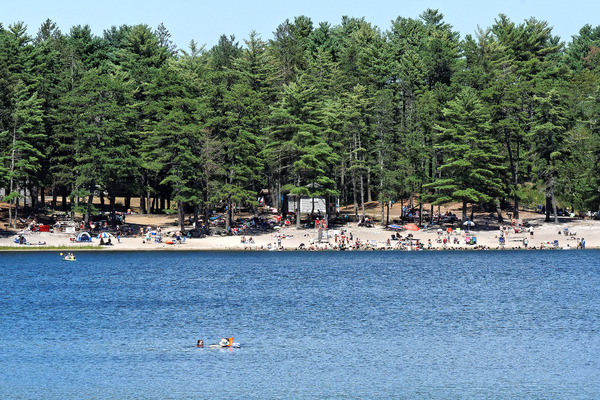 College Pond swimming.
For 2022, camping starts on May 12th and runs through October 9th. Visit www.reserveamerica.com to get your reservation. 24 hour advance registrations are required. There are no walkups allowed!
DCR Interpretive programs will be offered again in the spring. Max Bouchard, a new interpreter, joined the Myles Standish staff last year. The DCR Myles Standish monthly event calendars can be found online.
The park supervisor reminds everyone to maintain social distancing when visiting the park. We hope you will have a chance to visit the park. Try some of our Favorite Trails:
Friends 2019 Photo Contest awards were announced at our annual 2019 Fishing Derby.
11 photos were chosen by the judges as winners. The Friends thank everyone for their wonderful submissions and look forward to receiving your 2020 best photos from Myles Standish State Forest.
Our 2020 First Day Hike
took place on January 1st. We had about 125 people join us this year for our First Day Hike. Many people stayed to enjoy our cocoa and warming fire.
Hunting season
On December 31st, primitive arms season for deer ended. We note, however, that there are other hunting seasons during the year. No hunting on Sundays. Wearing blaze orange makes you visible to hunters. (Hunting season summary info from MassWildlife.)
The Friends, a dozen volunteers from the New England Aquarium and the DCR helped to clear downed trees and brush back the west side of the East Head Reservoir trail on November 3rd. The East Head trail was busy with hikers on this spectacular day on the most used trail in the forest. The 2.5 mile trail starts at park headquarters. (See "Favorite Trails")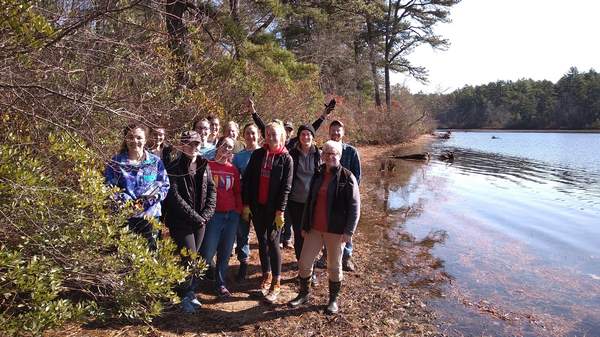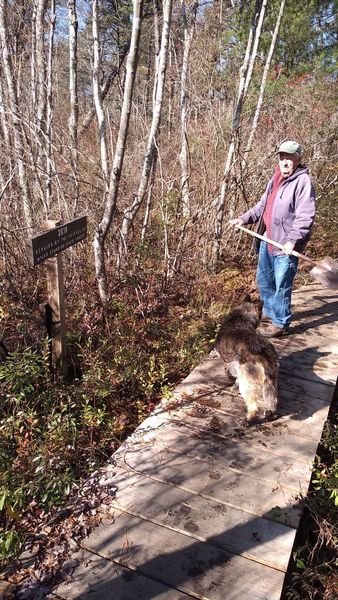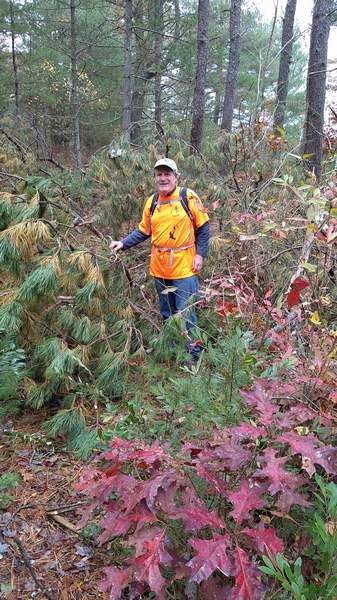 Winners were displayed at 2019 Fishing Derby
Boardwalk Repairs Complete!
The Friends are very proud to report that repairs on the two East Head boardwalks totaling more than a football field in length have been completed after a total of 9 working days led by Roger Janson, Thom Gifford and John Bescherer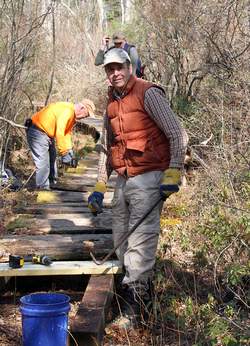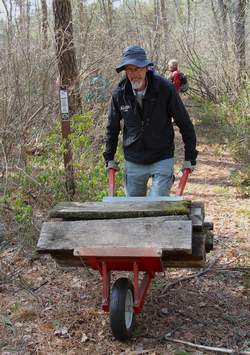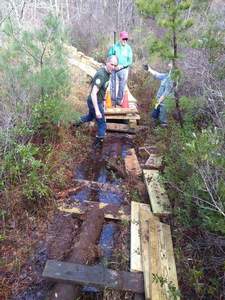 We started cutting up wood on April 9th and were able to lay the first boards on April 11th. With the help of AMC's Open House, great progress was made on the first boardwalk on April 14th and completed on April 17th. We started work on the second boardwalk on April 21st and made a lot of progress on Park Serve Day (April 28th). Work was completed on May 2nd. This is the biggest project ever completed by the Friends, using over $3,400 of your donations to purchase lumber and fasteners. We hope that it will last for many, many years.
Boardwalks Project Background
The Friends were approved in December 2017 for a DCR Partnership Matching Funds to help rebuild two boardwalks near the north end of the East Head Reservoir. A little more than half of the 438 boards were in poor condition. A few were missing. Our proposal hoped to replace the entire top deck with pressure treated boards designed to last a long time. We anticipated spending about $2,000 and receiving a 2:1 match from the state.
After receiving the matching funds award, we spoke with Plymouth Cable News (PACTV) in February 2018 about the project -
We received approval from Plymouth conservation commission to use the pressure-treated lumber. However. after we received approval from the town, the DCR decided that since it doesn't actually own the reservoir or the land that surrounds it, it couldn't financially support the project. We decided to proceed on our own. After we obtained permission from the land owner, and the snow melted, we started the project.
We needed a lot of help to make this happen and want to thank everybody who came out and helped.