What's going on in Myles Standish State Forest?
Myles Standish State Forest remains open.
College Pond and Fearing Pond day use parking lots will be open for Memorial Day 2021 weekend. It hasn't yet been determined if a fee will be charged at College Pond parking this year. Fearing Pond has an automated ticketing machine which will probably be in use when the pond opens. Fearing Pond has been stocked for trout in March of 2021 .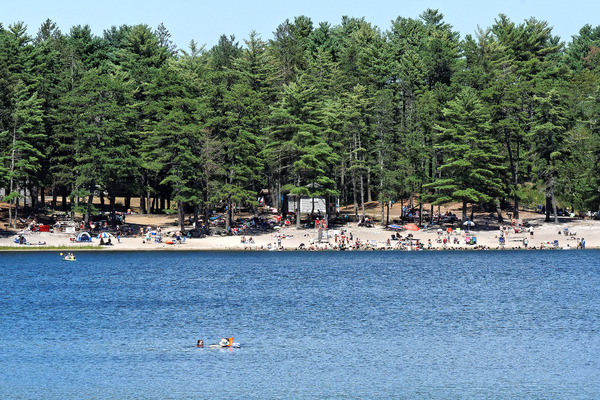 College Pond swimming.
For 2021, camping starts Wednesday May 17th and runs through Friday, September 10th. Fearing Pond campsites remain closed at this poing but have been worked on this spring and will probably be opened later in the season. According to the DCR, they are awaiting approval from on high to make the sites available. Visit www.reserveamerica.com to get your reservation.
Most Friends larger group activities remain on hold. We have been offering small group hiking again on Thursdays and on some weekend days and have had several trail maintenancedays in the forest this year. We did a lot of work to restore the trail bed of the Pine Barrens Path and the Charge Pond Loop. Additional work was done to smooth out the trail bed for the trails running out of the Equestrian Parking Lot (near Barrett Pond.) Sign up on Meetup to join us!
Our annual fishing derby and photo contest are still up in the air for this year. We hope that the pandemic will allow us to offer them again! If you take any awesome pictures this summer in the forest that you might like to share, send them to photos@friendsmssf.com. Please tell us where and when the picture was taken, your name and any photo title or information.
DCR Interpretive programs are on hold.
The park supervisor reminds everyone to maintain social distancing when visiting the park. We hope you will have a chance to visit the park. Try some of our Favorite Trails:
Friends 2019 Photo Contest awards were announced at our annual 2019 Fishing Derby.
11 photos were chosen by the judges as winners. The Friends thank everyone for their wonderful submissions and look forward to receiving your 2020 best photos from Myles Standish State Forest.
Our 2020 First Day Hike
took place on January 1st. We had about 125 people join us this year for our First Day Hike. Many people stayed to enjoy our cocoa and warming fire.
Hunting season
On December 31st, primitive arms season for deer ended. We note, however, that there are other hunting seasons during the year. No hunting on Sundays. Wearing blaze orange makes you visible to hunters. (Hunting season summary info from MassWildlife.)
The Friends, a dozen volunteers from the New England Aquarium and the DCR helped to clear downed trees and brush back the west side of the East Head Reservoir trail on November 3rd. The East Head trail was busy with hikers on this spectacular day on the most used trail in the forest. The 2.5 mile trail starts at park headquarters. (See "Favorite Trails")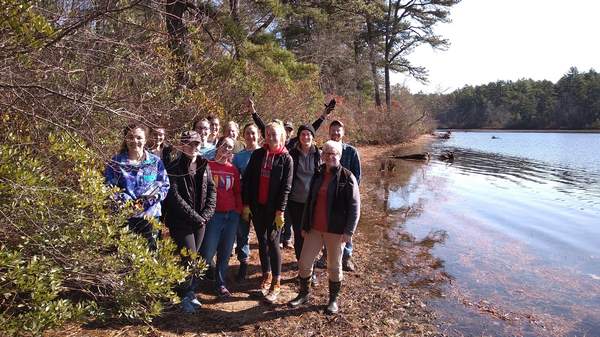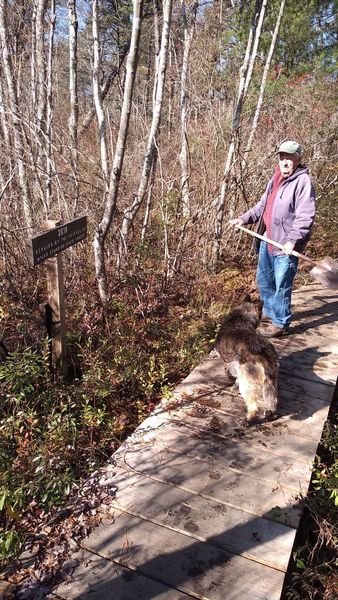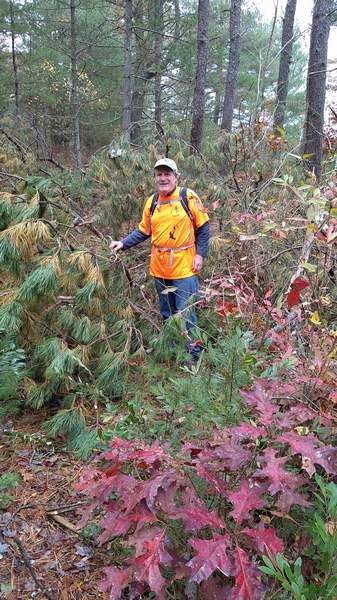 Canceled- Our 2020 Photo Contest has been canceled. We hope to offer it again this year. It looks like it may be happening. Stay tuned. .
Winners were displayed at 2019 Fishing Derby
Recent Events:
Friends Annual Meeting and Dinner
The 2019 meeting was held May 22nd at the Carver Sportsmens Club.
We invited Chris Buelow, a restoration ecologist for the Massachusetts Natural Heritage and Environmental Species Program, to speak on the 10 year Pine Barrens Restoration Project.
Last December, the DCR and MassWildlife announced a 10 year plan to cut down most of more than a thousand acres of pine forest surrounding the Charge and Fearing Pond areas of Myles Standish and another thousand acres south of the forest in MassWildlife conservation land. The goal is to restore the land to a pine barrens habitat more open to wildlife than the current dense growth.
The first several hundred-acre sections have been cut west of Charge Pond campground area B and in the Harlow Brook area. The campground areas were not directly affected. The change in appearance of the cut sections is dramatic. The plan is that each year another several sections will be cut.
Chris is the Senior Restoration Ecologist for the Massachusetts Natural Heritage and Endangered Species Program. The focus of the Heritage Program (a section of the MA Division of Fisheries & Wildlife) is to conserve the biodiversity of Massachusetts, with an emphasis on the state's rare and imperiled species, as well as globally rare natural communities. Chris has worked as a Restoration Ecologist for the Program since 2001, with much of this work dedicated to the identification, prioritization, restoration and management of fire-influenced natural communities and the specialized species that they support.
Elections for directors were held at the Annual Meeting. A new director, Franny Jo Walsh, was elected. She is an active equestrian. Bill Vickstrom was reelected to the board after a year officially off the board. (He remained very active in the Friends.)
Saturday, April 27, 9 am Park Serve Day

About 45 pitched in to help the DCR spruce up the Forest with a morning of work. About half the group planted flowers and cleaned up and raked around headquarters.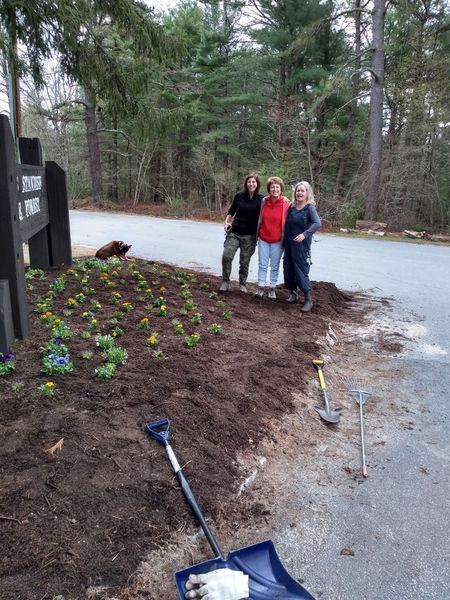 DCR staff was helped with some heavy lifting.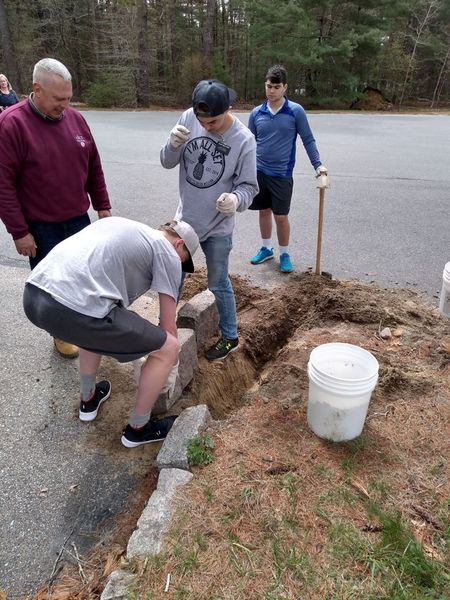 Another group of volunteers from the New England Aquarium worked on a trail section southwest of the Equestrian parking lot off Lower College Pond Road.
Our morning of work was followed by a hamburger and hot dog cookout at the amphitheater sponsored by the Friends.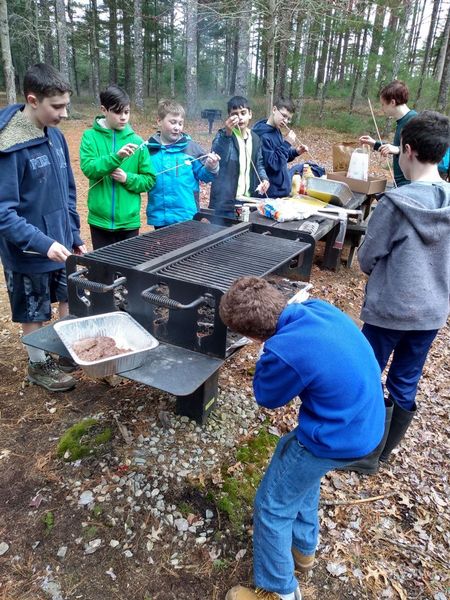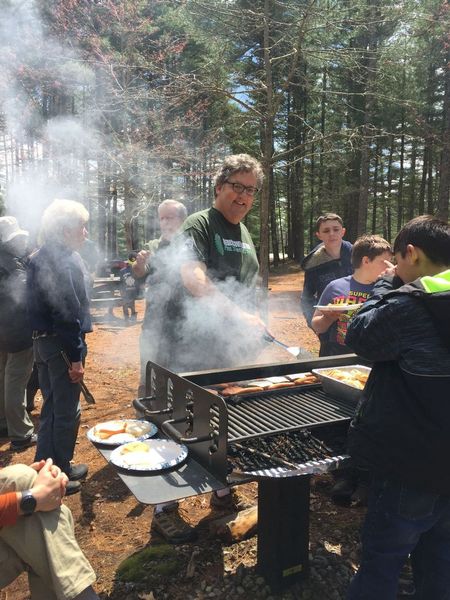 Friday, May 10, 2019 Ragnar Relay

10 Friends helped us earn money for future projects running a relay exchange stop for this big relay race.
Our relay exchange was at the Equestrian Parking Lot. The several hundred relay teams of 6-12 runners were running from Hull to Dennis and kept us busy for hours. The Friends will receive a very nice donation for the work.

Native Bird Support- The bluebird boxes are in.
Bluebird totals were off a little in 2018. Our 40 bluebird boxes went in on March 18th in 2017. We put them out on March 10th in 2018. If you want to help monitor the bird boxes, please send us an email and we will forward it to Melissa Guimont.

See more pictures and the reports from prior years on our Native Bird Support page.
2018 Boardwalk Repairs sign

. Thank you for your support in getting the repairs done!

Hunting season has mostly ended

(We say mostly because it's always hunting season for something but the bulk of hunting activity is in the fall.

As always, there is no hunting on Sundays!
It's not too cold!
We had a lot of people join us on hikes in January including at least 75 people on our First Day Hike, a great group for our post-Holiday hike and get-together at the New World Tavern and a group of 22 for a mid-winter hike with the AMC.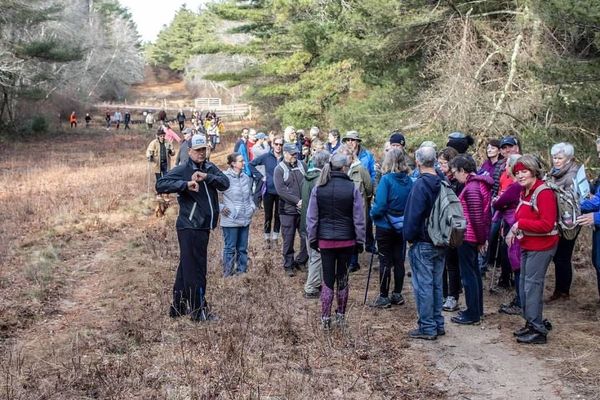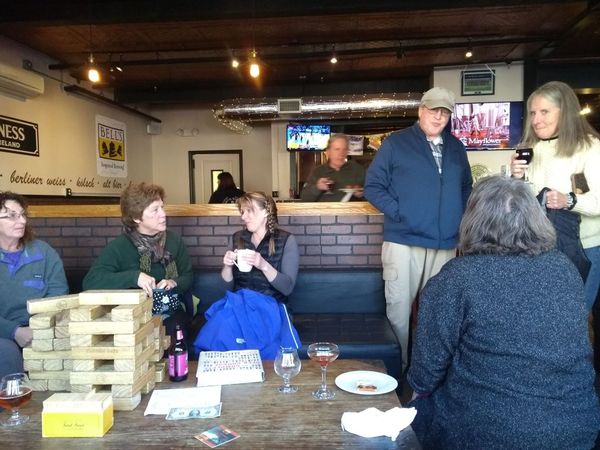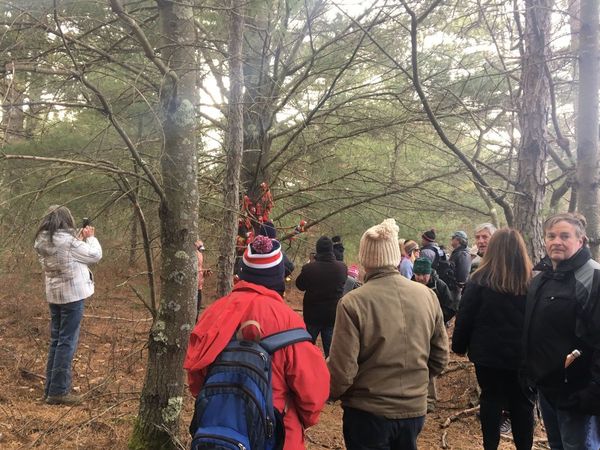 Public Meeting on Pine Barrens Restoration plan was held on December 5th at 5pm
DCR has announced a 10 year plan to treat 1,109 acres of forest land in the southern part of Myles Standish. This will involve cutting down white pines, thinning pitch pine density (by cutting), burning, mechanical clearing, etc. in areas surrounding Charge Pond and Fearing Pond, the Camp Cachalot easement and MassWildlife areas outside the forest. The campgrounds will not be closed. Trails may be closed while work is going on.
A map of the proposed sections was published by the DCR. The area to be treated includes several MassWildlife areas outside the forest. The plan is to treat sections in the order shown on the map. Two areas have already been cut.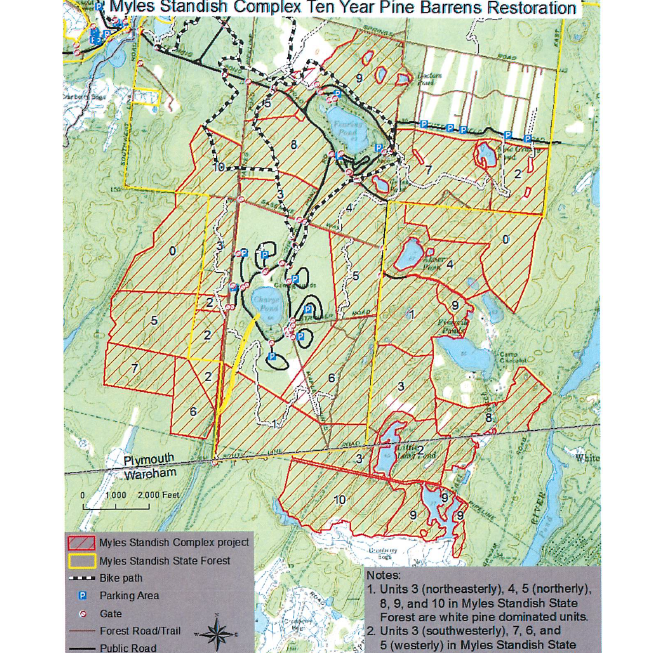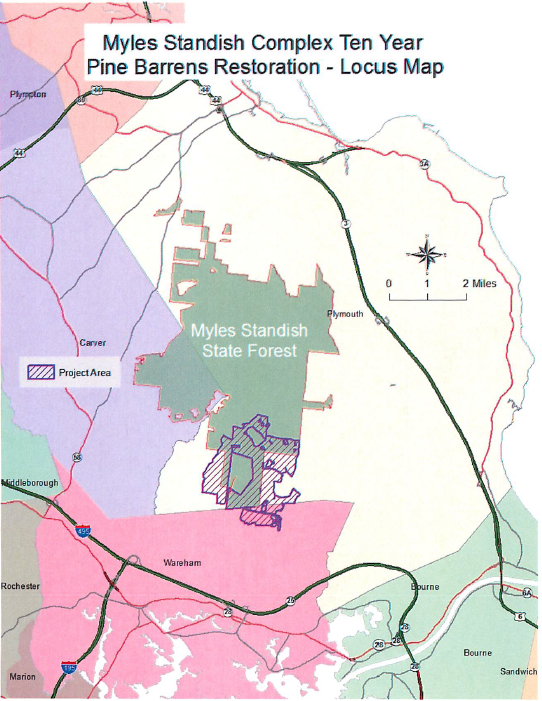 The full 10 year pine barrens restoration proposal is viewable on the DCR website.
The Pine Barrens Restoration Plan is under way.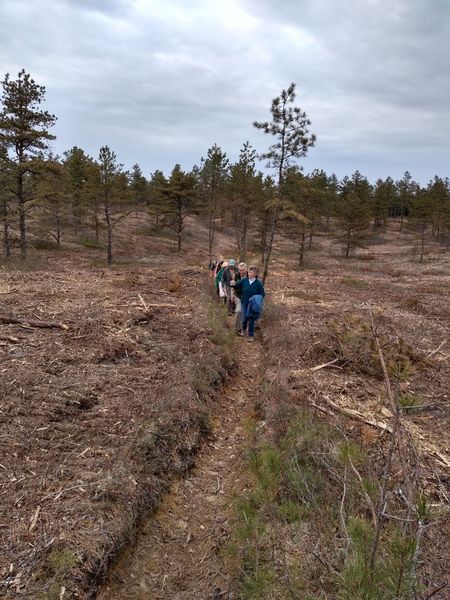 Two large areas were cut back this spring west of Charge Pond's campgound B and southeast of Harlow Brook.
Friends 2018 Photo Contest Winners Announced
2018 Photo Contest Winners. 8 winning photos were chosen by judges from 19 entries. The photos were enlarged and displayed at the Fishing Derby.
Our 12th Annual Fishing Derby at Fearing Pond took place on September 29th. Almost 400 registered to fish. We hope you all had fun and will be able to join us for another day of free fishing fun, prizes and activities next year! Thanks to MassWildlife and DCR, the Friends of Myles Standish State Forest and the Fearing Pond Cottage Association and all of our prize sponsors for another great year!
The Friends' 2018 Annual Meeting was held Wednesday May 23rd at the Carver Sportsmen's Club.
We had Blake Dinius, the newly hired Plymouth County Entomologist (bug expert) as guest Speaker. Blake did a lively presentation on "Ticks and their environment". The talk reviewed the basic biology of ticks, tick habitats and tried to dispel commonly held myths. Most importantly, proven protection measures and prevention were discussed.
Board elections were held. Most of the existing board volunteered to continue serving the Friends. Unfortunately, Bill Vickstrom has completed eight years on the board and will have to step down as President. We thanked him at the meeting for his service and dedication to the group. He plans to stick around and help but is up against our bylaw term limits. (Maximum of four two-year terms as a director. He can come back after a year.) We also thanked Thom Gifford and Roger Janson and all of our volunteers for their terrific efforts on the boardwalks. (see below) Karl Pastore of the DCR also spoke.
Boardwalk Repairs Complete!
The Friends are very proud to report that repairs on the two East Head boardwalks totaling more than a football field in length have been completed after a total of 9 working days led by Roger Janson, Thom Gifford and John Bescherer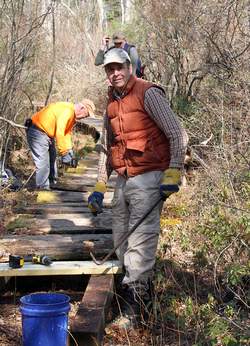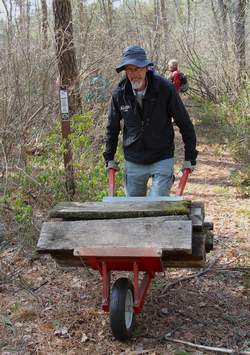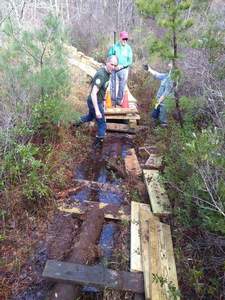 We started cutting up wood on April 9th and were able to lay the first boards on April 11th. With the help of AMC's Open House, great progress was made on the first boardwalk on April 14th and completed on April 17th. We started work on the second boardwalk on April 21st and made a lot of progress on Park Serve Day (April 28th). Work was completed on May 2nd. This is the biggest project ever completed by the Friends, using over $3,400 of your donations to purchase lumber and fasteners. We hope that it will last for many, many years.
Boardwalks Project Background
The Friends were approved in December 2017 for a DCR Partnership Matching Funds to help rebuild two boardwalks near the north end of the East Head Reservoir. A little more than half of the 438 boards were in poor condition. A few were missing. Our proposal hoped to replace the entire top deck with pressure treated boards designed to last a long time. We anticipated spending about $2,000 and receiving a 2:1 match from the state.
After receiving the matching funds award, we spoke with Plymouth Cable News (PACTV) in February 2018 about the project -
We received approval from Plymouth conservation commission to use the pressure-treated lumber. However. after we received approval from the town, the DCR decided that since it doesn't actually own the reservoir or the land that surrounds it, it couldn't financially support the project. We decided to proceed on our own. After we obtained permission from the land owner, and the snow melted, we started the project.
We needed a lot of help to make this happen and want to thank everybody who came out and helped.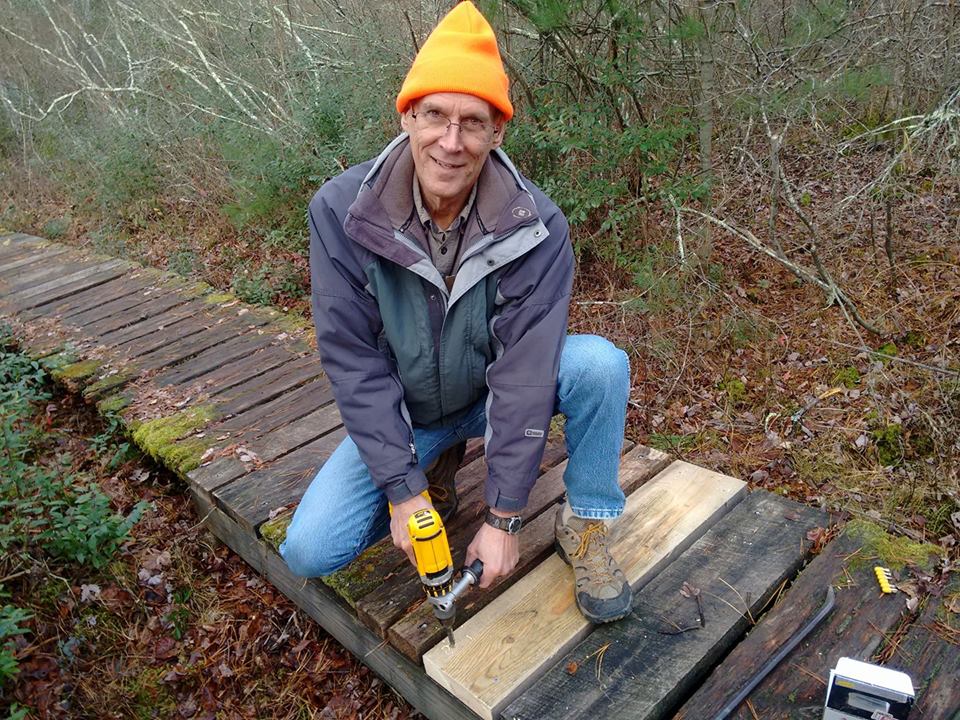 March 2019 storms downed dozens of trees along the major trails in the forest. The DCR's first priority was to deal with the hundreds of trees downed along the fire roads and in the campgrounds. We did what we could to help reopen the trails.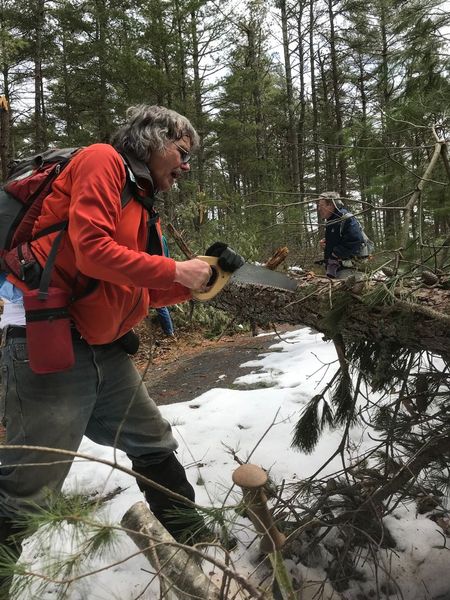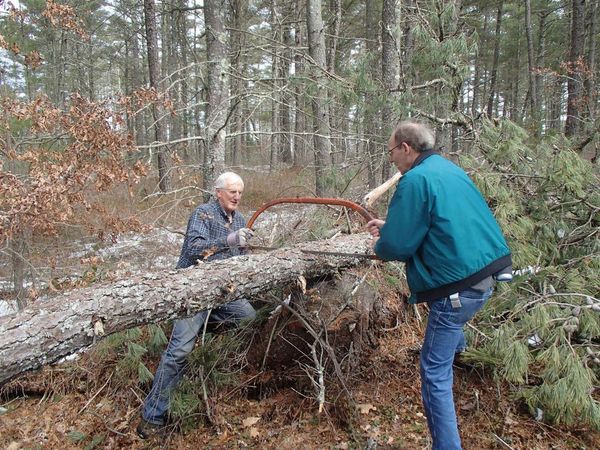 The East Head Reservoir Trail and the Bentley Loop Trail were hikeable but you still had to navigate around a fair number of downed trees. Join us on our next trail work outing!
Changes in dog leashing and waste collection for wildlife management areas
The proposed changes were the subject of a public meeting at Mass Wildlife headquarters on Tueday, February 6th, 2018. Since there are are two large wildlife management areas within Myles Standish SF (the Bentley Loop area and the Cutterfields Road area) and there are others bordering the state forest, the discussion was an important one. At its March 14th meeting, MassWildlife's board approved the new regulations with some major revisions reflecting the public comments it had received:
Approved Wildlife Management Area Dog regulations
Dogs must be physically leashed at all times unless they are actively used in hunting or hunting training
All dog waste must be picked up within parking areas and within 100 feet of parking areas. Regulation applies to hunters and non-hunters.
A proposed prohibition of letting dogs interfere with other users' use or enjoyment of the WMA was scrapped as "too vague and hard to enforce."
The DCR does allow off-leash dog areas in many of its parks. The Friends will continue to advocate for the establishment of such areas within Myles Standish State Forest.
The Friends (normally) host a lot of hikes, bird walks, stargazing nights and other activities in the forest. The Friends of Myles Standish State Forest Meetup.com listings are the best place to find up-to-date info on all our upcoming volunteer-led hikes, birding events and other activities in Myles Standish State Forest.
Find DCR events in Myles Standish State Forest with their new DCR event listings search.
Camping starts on July 1st in 2020
Get your Myles Standish State Forest campground reservations now at
Reserve America
. Camping is $17 per night for in-state campers. $54 for out of state campers.
We hope you checked out the new ornament on the Communitree in downtown Plymouth.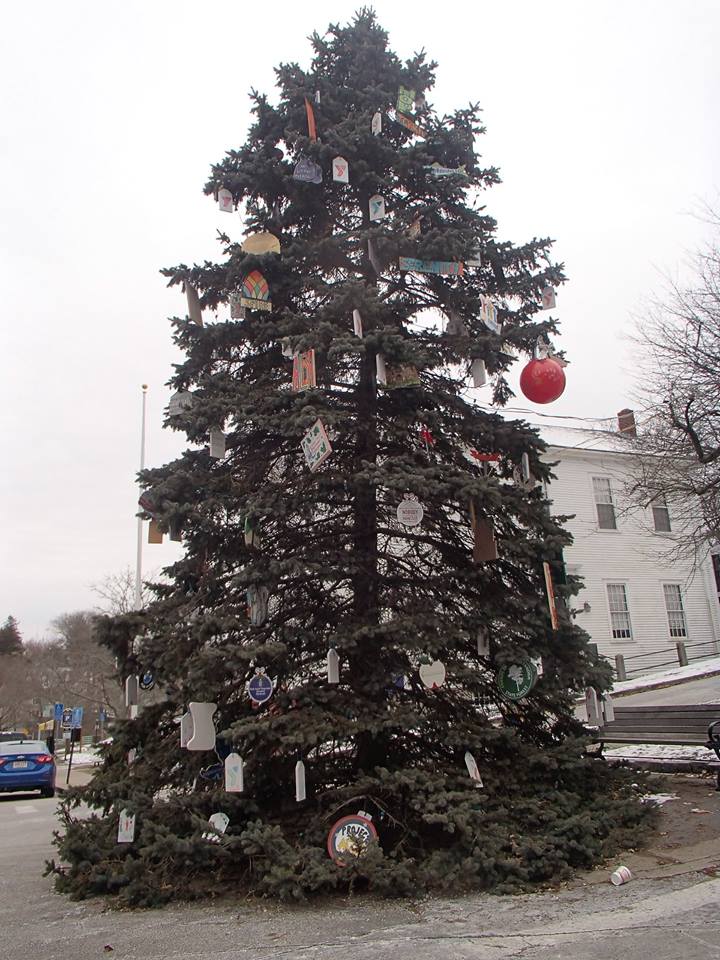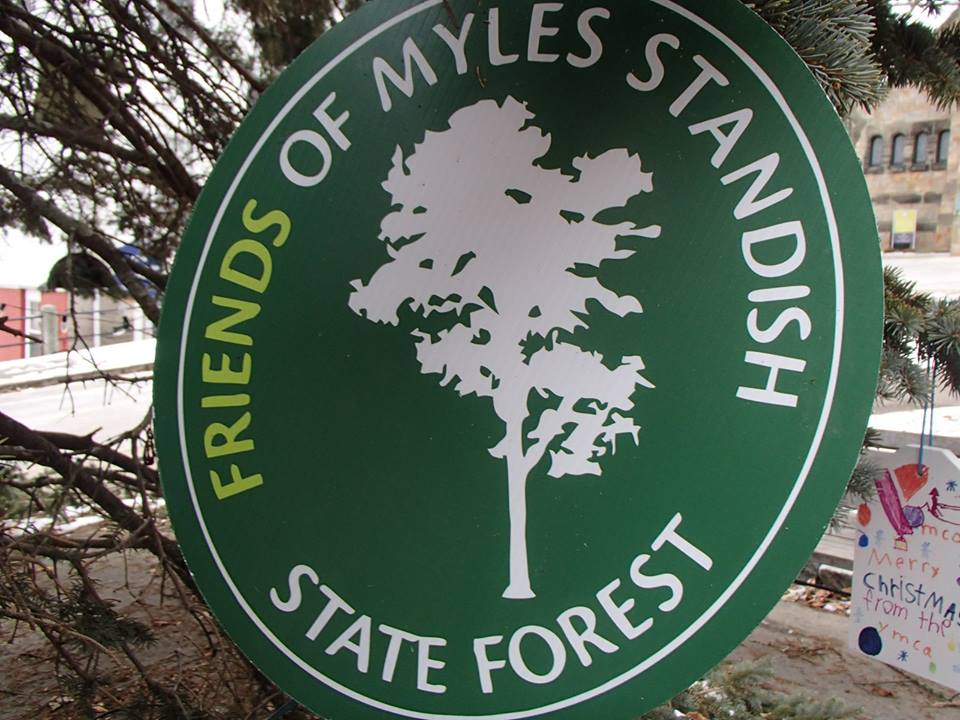 Thanks to Cyndi Vickstrom and Karl Lekberg for the beautiful work!
Friends 2020 Photo Contest has been canceled.
We hope to open it up again next year! .
Membership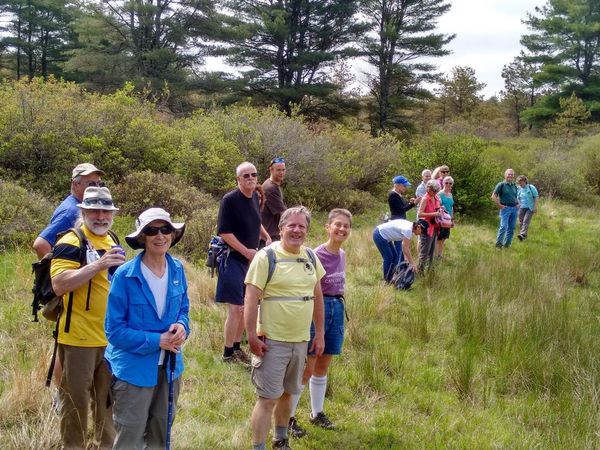 Please consider becoming a member of the Friends. Your contribution helps the Friends pay for our free family fishing derby, trail maintenance, running this website and our Meetup activity scheduling site and the many other programs we run for the benefit of the Forest and its users.
Annual membership is only $10 for an individual. More details about membership are available on our Membership page You can mail your contribution or use the PayPal Donate button below to join online.
Newsletters
Our most recent newsletters:-

From Virus to Human (April 2020)

The Forest for the Trees (early March 2020)

Hike then Party (January 2020)

Myles Standish- the Man(December 2019)

Life in MSSF- the biggest and the smallest (Nov 2019)

Fishing Derby and Photo Contest winners. Also Megafauna (Oct 2019)

The Friends' next Board meeting takes place Tuesday May 11th at 7PM via a Zoom conference call. As soon as the coronavirus situation improves, we hope to start meetings in the forest again.

Do you know someone who regularly camps, bicycles, rides horses, skis or snowshoes or kayaks in the State Forest? Our group needs more input from all legitimate forest users. Currently, we have hikers, wildlife observers, hunters/fishers and cottage owners. We would love to have active campers, bicyclists and cross country skiers join us. You are welcome to attend our next Board meeting.(More info.)

Last Update 5/10/2021

Order a Friends embroidered logo hat

Take Me Fishin Highlights 2007-2013

Take Me Fishin Highlights 2014-2017

Friends Membership Page- Join Us!

Report Illegal Off Road Vehicle

Pine Barrens Community Initiative



The
Friends of Myles Standish State Forest Meetup.com listings
are the best place to find up-to-date info on all our upcoming hikes, birding events and other activities in Myles Standish State Forest.
Myles Standish State Forest map available at headquarters.
A beautiful new map of the forest was published in 2016 and is available for free at headquarters. Here is a scan of the map.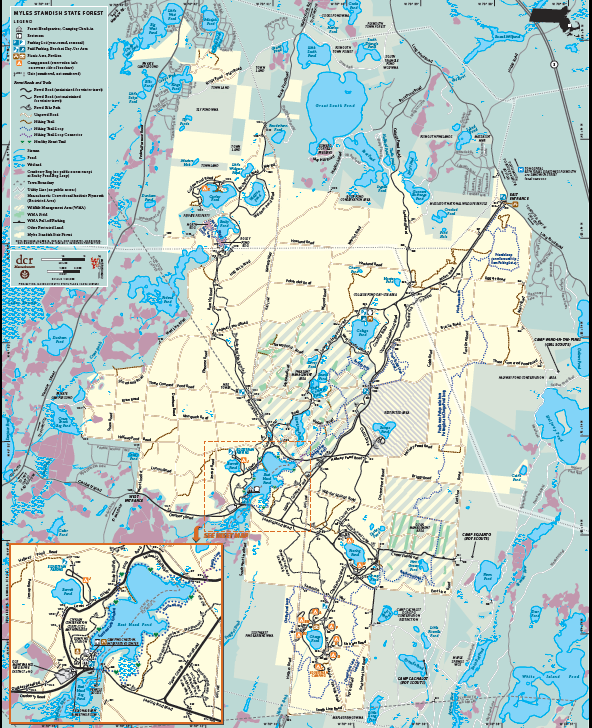 Download a
printable PDF copy of the Myles Standish map.
Check out some of our favorite trails!
Friends Hats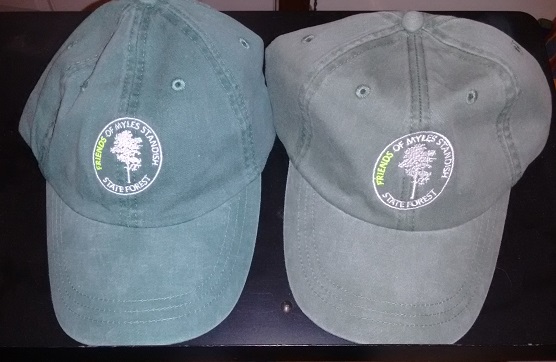 The Friends are selling caps with the Friends logo. You can purchase one of these hats at many Friends events. These hats are now also available for order online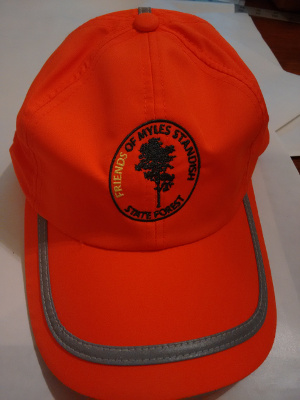 (Note: Blaze orange hats are now back in stock.).
No hunting is allowed on Sundays.
According to this 2014 article from the Star Tribune (Minnesota) , "Massachusetts has nation's toughest ATV law." In a recent presentation to the DCR Stewardship Council by an Environmental Police Officer, Plymouth and Carver were shown to be the leading sources (#1 and #2) of calls to the Massachusetts Environmental Police with complaints about illegal riding. Your calls have been noticed and the many visits of EPO's to MSSF over the fall were credited to the calls. (Numbers for reporting OHV's in the park)
It's tick season! (It's always tick season.) Find out more about ticks and what you can do to protect yourself and your pets at the University of Rhode Island's Tick Encounter Center You can:
Learn how to make your clothes tick repellent.
How to remove ticks.
How to treat your yard for ticks.
Get your ticks tested. A $50 mail-in test performed by UMass Amherst will quickly tell you if the ticks you find are infected.
Identify ticks.
The bluebird boxes went up in May. The boxes are filling up quickly!
The new map mural was put on display next to the Park's Interpretive Center.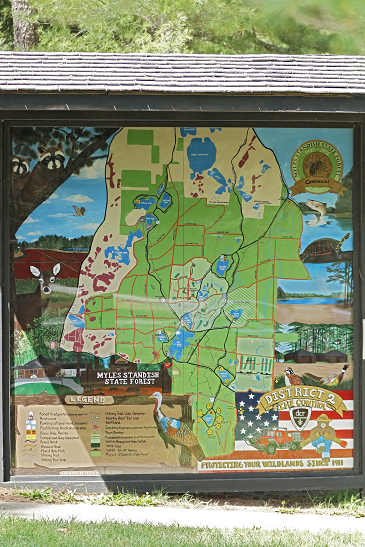 The map was commissioned by the Friends and the DCR from local artist Laura Anzalone.
New Treatment Facility for Addicts opened at site of former MCI Plymouth in May 2017
In early May, patients were transferred in to a new treatment facility for substance abusers and alcoholics at the site of the former MCI Plymouth, which is located within the state forest off Circuit Drive.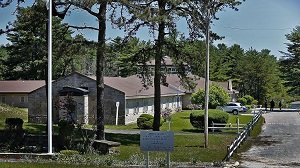 It is called MASAC (Massachusetts Alcoholic and Substance Abuse Center) at Plymouth. Some of them (17 at last count) have been leaving the facility without permission and have had to be returned by law enforcement. The patients have been committed by the Courts to the facility under
Section 35
, which explains that those committed to the facility are judged by a Court to have a subtance abuse problem which is causing them to pose a danger to themselves or others. MCI Plymouth existed for about 75 years in the forest using the same facilities and had no escape problems that we were ever aware of. Friends President Bill Vickstrom
spoke to the media
about the Friends' concerns.
We hosted the Deputy Commissioner from the Corrections Department at both our June and July meetings. In June, he apologized for the problem and explained how "elopements" from other substance abuse facilities are handled around the state. He told the assembled group about the State's reaction to the "elopements" and how an 8 foot fence topped with barbed wire will be in place around the residential area by the end of June with additional fencing in place by the end of August around the recreational areas. He said that a tactical team is now available for rapid recapture. Many attendees demanded that the State provide better notification of escapes through the use of the reverse 911 systems available in Carver and Plymouth and asked that the State provide better cell coverage in the forest so that users of the forest would be aware when a problem occurs. They also asked that if these are "patients" and not convicted criminals, the response be moderated and stated that the state's SWAT team response with assault rifles drawn and dogs and helicopters had made park users feel threatened.
As of June 30th, the new fencing was visible, as was the enhanced security around the site. The Deputy Commissioner provided an update at our July 2018 meeting. Fencing is now complete around two of the residential buildings. Guards continue to be stationed around the perimeter. There were no additional "elopements" in June. We reiterated our requests for an improved notification system, suggesting that temporary cell tower might provide the ability to notify park users who are currently off the grid while in the forest.
The 2017 Friends Annual Meeting took place on Thursday May 18th at the Carver Sportsmens Club. This year we had Doug Lowry, a teacher and naturalist with Audubon and Senior Staff at the National Outdoor Leadership School (NOLS) as our guest speaker. Karl Pastore from the DCR also addressed attendees. Two new members were elected to the Friends' Board- Christie Lawyer and Derek Welch. Two other members were reeelected to new two year terms- Thom Gifford and Jim Nelson. John Bescherer was recognized as "Volunteer of the Year".
The Friends have had several days working on the trails already this year- In particular, we worked along the Pine Barrens Path (a north-south trail running all the way from Charge Pond to the East Entrance). Signs have been going up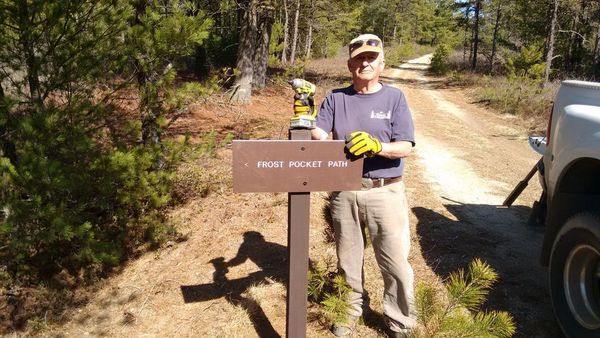 About a mile of the Pine Barrens Path trail has been brushed back with equipment authorized by the DCR.
4th Annual Pinefest sponsored by the Pine Barrens Alliance took place on Saturday May 20th. Another great day was had by all.
The 10th Anniversary Meeting of the Friends took place on May 3rd, 2017. Read a news report about the initial meeting. About a dozen people managed to join us and talk with us about the Friends accomplishments over the last 10 years and help us think about our goals going forward, in spite of the closing of the forest that night owed to unforeseen circumstances.

Park Serve Day 2017 took place on Saturday April 29th. Park Serve Day is DCR's annual day inviting the public to help beautify the park we love so much. About 35 people joined us for a morning of work. A group of students from Rising Tides Charter cleaned up around headquarters while other Friends cleared the Charge Pond Pavilion and beach. Then all returned to the headquarters for a cookout sponsored by the Friends.

Park Visitor Services Supervisor Dan Byrnes will return. He led several months of very popular oaf park-sponsored events posted on the state's DCR events site. We bumped into him up in Boston and he anticipated coming back again in 2018.