What's going on in Myles Standish State Forest?
A magnificent July 4th day at College Pond and Fearing Pond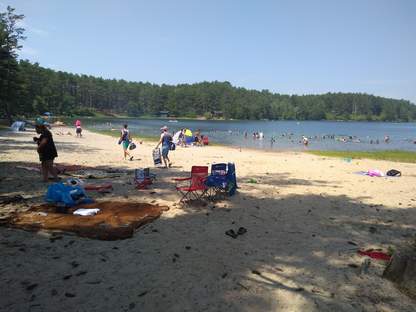 Friends' events coming up:
Off the Beaten Path Friday Hikes with John Bescherer and DCR Interpreter Daniel Byrnes started on July 6th. Sign up on Meetup. Hikes will be held every Friday at 9am throughout the summer starting at various locations in the park.
Our 12th Annual Fishing Derby at Fearing Pond is coming up on September 29th. Hope you will be able to join us for another day of free fishing fun, prizes and activities.
The Friends' 2018 Take Me Fishin' Family Festival is coming up on September 29th.
Last year, despite very threatening clouds, the rain held off all day and more than 100 people registered to fish. The winning fish was a 17 inch rainbow trout caught by a little girl. She took the 4-pack of tickets to Edaville Railroad as her prize.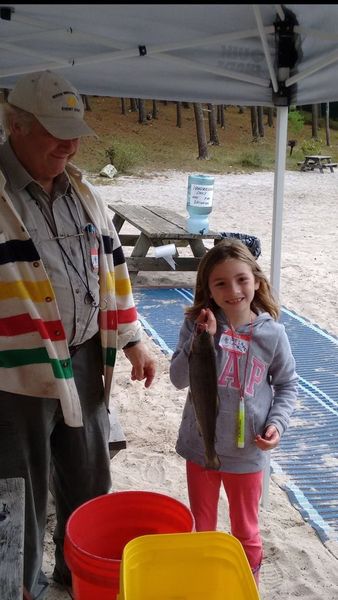 The Friends want to thank all of the Derby sponsors, including Massachusetts DCR and Mass Wildlife, along with our generous prize donors.
The Friends' Annual Meeting was held Wednesday May 23rd at the Carver Sportsmen's Club.
We had Blake Dinius, the newly hired Plymouth County Entomologist (bug expert) as guest Speaker. Blake did a lively presentation on "Ticks and their environment". The talk reviewed the basic biology of ticks, tick habitats and tried to dispel commonly held myths. Most importantly, proven protection measures and prevention were discussed.
Board elections were held. Most of the existing board volunteered to continue serving the Friends. Unfortunately, Bill Vickstrom has completed eight years on the board and will have to step down as President. We thanked him at the meeting for his service and dedication to the group. He plans to stick around and help but is up against our bylaw term limits. (Maximum of four two-year terms as a director. He can come back after a year.) We also thanked Thom Gifford and Roger Janson and all of our volunteers for their terrific efforts on the boardwalks. (see below) Karl Pastore of the DCR also spoke.
Boardwalk Repairs Complete!
The Friends are very proud to report that repairs on the two East Head boardwalks totaling more than a football field in length have been completed after a total of 9 working days led by Roger Janson, Thom Gifford and John Bescherer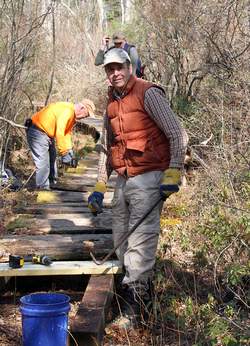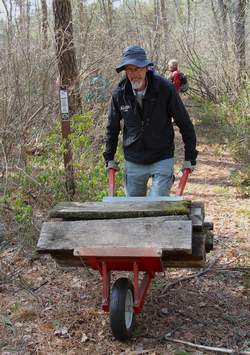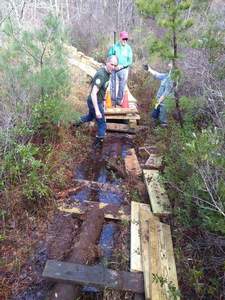 We started cutting up wood on April 9th and were able to lay the first boards on April 11th. With the help of AMC's Open House, great progress was made on the first boardwalk on April 14th and completed on April 17th. We started work on the second boardwalk on April 21st and made a lot of progress on Park Serve Day (April 28th). Work was completed on May 2nd. This is the biggest project ever completed by the Friends, using over $3,400 of your donations to purchase lumber and fasteners. We hope that it will last for many, many years.
Boardwalks Project Background
The Friends were approved in December 2017 for a DCR Partnership Matching Funds to help rebuild two boardwalks near the north end of the East Head Reservoir. A little more than half of the 438 boards were in poor condition. A few were missing. Our proposal hoped to replace the entire top deck with pressure treated boards designed to last a long time. We anticipated spending about $2,000 and receiving a 2:1 match from the state.
After receiving the matching funds award, we spoke with Plymouth Cable News (PACTV) in February 2018 about the project -
We received approval from Plymouth conservation commission to use the pressure-treated lumber. However. after we received approval from the town, the DCR decided that since it doesn't actually own the reservoir or the land that surrounds it, it couldn't financially support the project. We decided to proceed on our own. After we obtained permission from the land owner, and the snow melted, we started the project.
We needed a lot of help to make this happen and want to thank everybody who came out and helped.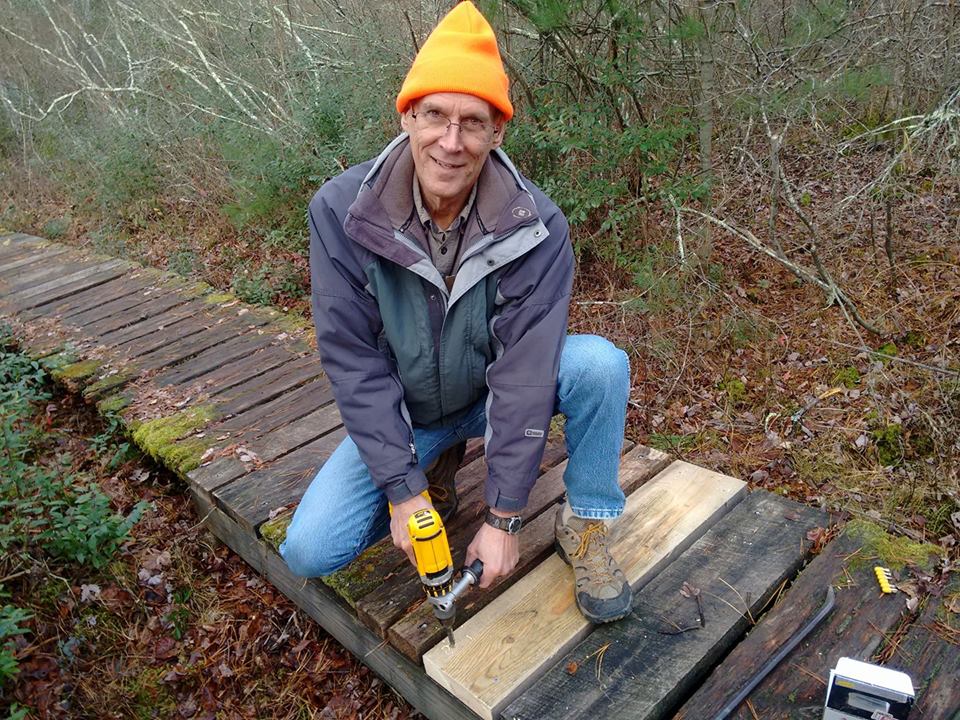 March storms downed dozens of trees along the major trails in the forest. The DCR's first priority is to deal with the hundreds of trees downed along the fire roads and in the campgrounds. We are doing what we can to help reopen the trails.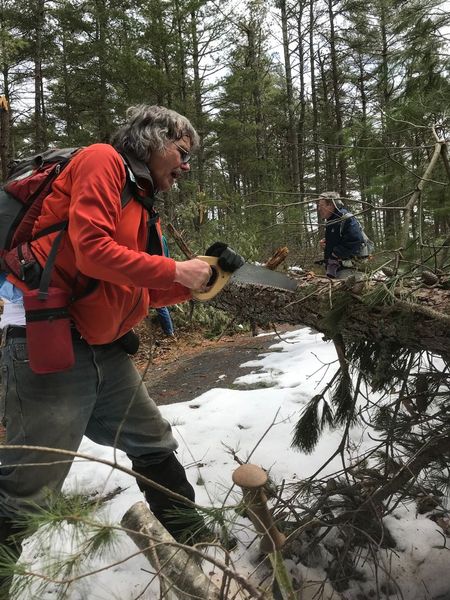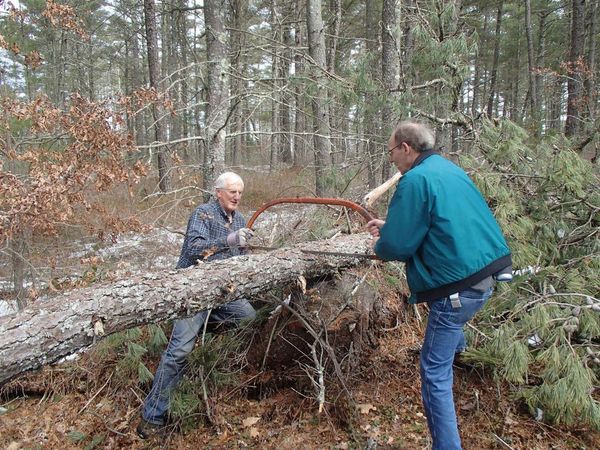 The East Head Reservoir Trail and the Bentley Loop Trail are hikeable but you will still have to navigate around a fair number of downed trees. Join us on our next trail work outing!

Native Bird Support- It's bluebird box time!
Bluebird totals were up again in 2017. Our 40 bluebird boxes went in on March 18th last year. We put them out on March 10th this year. (Sign up on Meetup to learn how to help monitor the boxes on April 8th.)
See more pictures and the reports from prior years on our
Native Bird Support page
.
Other Friends events coming up:
Southeastern Mass Adult Walking Club hikes on Sunday July 1st at headquarters at 9am. Sign up and get news of schedule changes.
Off the Beaten Path Friday Hikes with John Bescherer and DCR Interpreter Daniel Byrnes start on July 6th. Sign up on Meetup. Hikes will be held most Fridays throughout the summer.
Changes in dog leashing and waste collection for wildlife management areas
The proposed changes were the subject of a public meeting at Mass Wildlife headquarters on Tueday, February 6th. Since there are are two large wildlife management areas within Myles Standish SF (the Bentley Loop area and the Cutterfields Road area) and there are others bordering the state forest, the discussion was an important one. At its March 14th meeting, MassWildlife's board approved the new regulations with some major revisions reflecting the public comments it had received:
Approved Wildlife Management Area Dog regulations
Dogs must be physically leashed at all times unless they are actively used in hunting or hunting training
All dog waste must be picked up within parking areas and within 100 feet of parking areas. Regulation applies to hunters and non-hunters.
A proposed prohibition of letting dogs interfere with other users' use or enjoyment of the WMA was scrapped as "too vague and hard to enforce."
The DCR does allow off-leash dog areas in many of its parks. The Friends will continue to advocate for the establishment of such areas within Myles Standish State Forest.
The Friends host a lot of hikes, bird walks, stargazing nights and other activities in the forest. The Friends of Myles Standish State Forest Meetup.com listings are the best place to find up-to-date info on all our upcoming volunteer-led hikes, birding events and other activities in Myles Standish State Forest.
Find DCR events in Myles Standish State Forest with their new DCR event listings search.
Camping starts on May 17th in 2018
Get your Myles Standish State Forest campground reservations now at
Reserve America
. Camping is $17 per night.
We hope you checked out the new ornament on the Communitree in downtown Plymouth.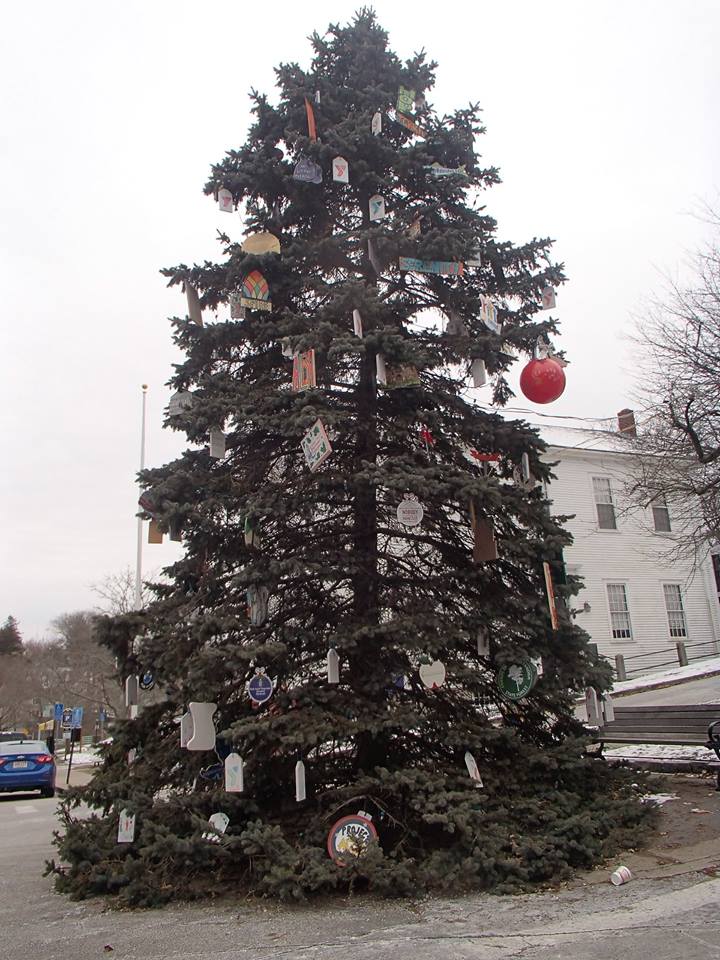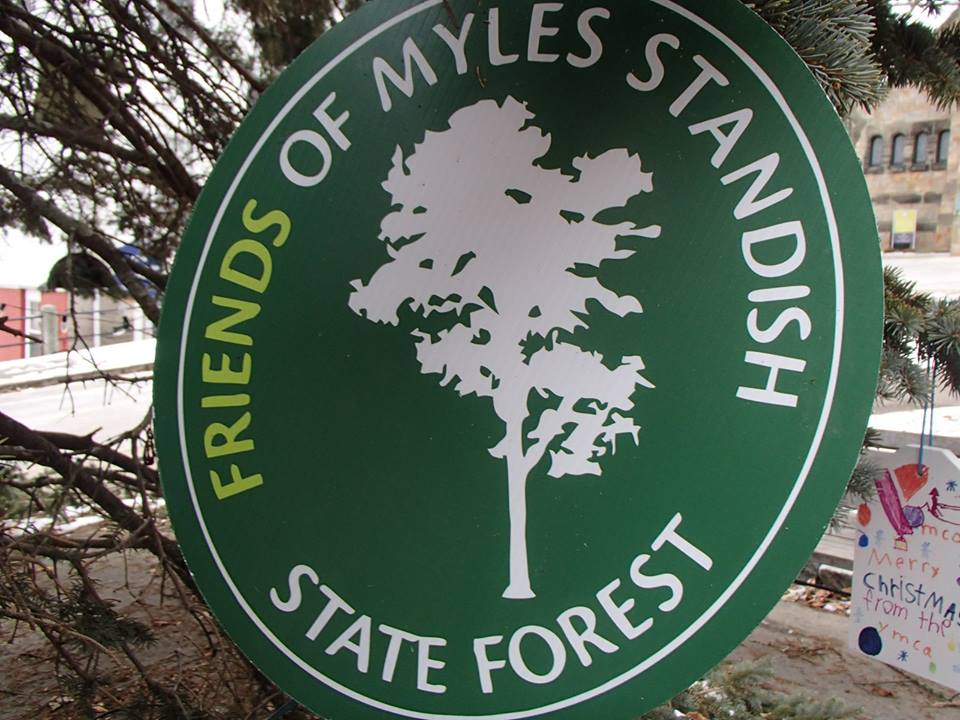 Thanks to Cyndi Vickstrom and Karl Lekberg for the beautiful work!
Friends 2017 Photo Contest Winners Announced
2017 Photo Contest Winners. 14 winning photos were chosen by judges from 70 entries. The photos were enlarged and displayed at the Fishing Derby.
Friends 2018 Photo Contest is now open!
Entries are now being sought for our 2018 contest. Rules will be the same as in previous years. Up to 3 entries may be submitted by an individual. All photos must be taken in Myles Standish State Forest between 9/20/17 and 9/20/18. Categories are historic, landscape, flora, fauna, recreation and memorable event. Submit photos electronically in a standard format(.jpg) to
photos@friendsmssf.com
on or before 9/19/2018. Please include your name, photo title, photo location (approximate),category (flora, fauna, landscape, etc.) and date. Awards will be announced at the Friend's Fishing Derby on September 29th, 2018.
View previous winners
.